SITE NAVIGATION

Home

KT³ YMS Software

The KT³ YMS Software is a 3 Dimensional application which covers Infrastructure, Supply Chain Logistics, and The Global Internet. KT³ can be tailored to meet your needs and has been developed to be a global cutting edge Internet enabled yard management application. To learn more about KT³ Follow This Link.

---

Virtual Yard Management, Inc.
3901 Colorado Ave.
Sheffield Village, Oh 44054
Phone: 440-949-1910

---

© 2003 Virtual Yard Management, Inc.
All Rights Reserved
About Us
Services

Virtual Yard Management, Inc. offers many different services to help make your supply chain more efficient and reliable than ever saving your corporation from wasting valuable man power hours and money. To learn more about the services we offer visit our

Services Homepage

.

The long-term knowledge and experience of the company founder, gained from more than 20 years of working within the management intensive U.S. Automotive industry, has been augmented by the addition of highly qualified executive and management personnel who have all been selected from within the supply chain logistics sector. Find out more about our business by

Clicking Here.

You can contact Virtual Yard Management, Inc. Via phone, mail, or email. For contact information please visit the

Contact Us Page

.

Our company offers it's clients a large array of support options including on site, online, and telephone support. To find out more about our support options please visit our

Support Page

.
Virtual Yard Management, Inc. (VYM), founded by Joseph E. Radican, has been operating in the hands-on environment of industrial container movement for over two decades.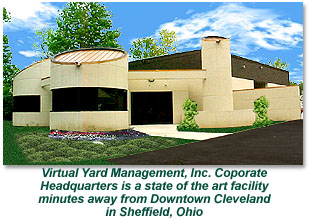 Based on sound and established business practices specifically designed to meet the high customer standards, VYM also maintains a Total Quality Management (TQM) policy. TQM aligns the various functions of our switching service (CDL Certification, HazMat Training, DOT Regulations, Customer Specifications/Requirements, etc.) in a manner that encourages perpetual process improvements relating to day-to-day operations, industry equipment and technological advances. Once validated for application, integrity and cost effectiveness improvements are are introduced to exceed the customer's expectation of service.
VYM is a price competitive alternative for regionally-based over the road moves. As a natural extension to the switching contract, VYM is able to perform certain freight moves as shuttles - significantly contrasting the cost of truck load or LTL carrier line haul rates